About
Steam Inventory Scanner is a free Application that allows you to easily scan Steam Inventories and show all the items in a powerful, compact list that can be filtered and searched. Furthermore, for each item, there are links towards Steam Community Market, Steam Card Exchange, as well as direct links to User Profiles, Inventories, and Trading.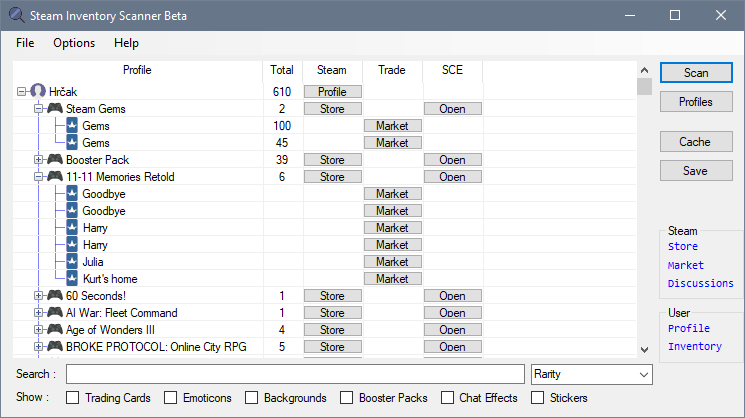 The Application Supports both Old and New Steam Endpoints.
Features
Compact preview of Inventory Items within a powerful list
Quick Links Towards Steam Market, Steam Card Exchange, Inventories, Profiles, etc.
Powerful search and filtering per item type or rarity
Setting up Profiles to be scanned prior to the scan, thus allowing multiple scans with one click at any given point
Scanning profiles by pasting the Profile URL or SteamID64
Caching of the Scanned data for future previewing
Exporting the data to a customizable Text or HTML file
How does it work?
Steam Inventory Scanner Scans inventories by Parsing the JSON from the Inventory Page that you can view yourself on any public Profile.
The only thing that users need to provide is a URL towards the desired Steam Profile or SteamID64.
Steam Inventory Scanner doesn't require Steam Login, API key, or anything similar.
Steam Inventory Scanner is not Affiliated with Valve or Steam
The Application doesn't require Steam and is not related to Steam or Affiliated with Valve at all.
You can run it on any Machine without having Steam installed and without providing your login data, your API key, or any other sensitive information.
---
Last update: May 4, 2020